TITAN Black
Moving with time. Whether you need it as a pocket watch or stylish pendant accessory. Titan is your brightly colored special charm. Incredibly lightweight with a beautifully crafted aluminum casing. Time is read from the outer hour ring of 12 segments and inner minute ring of 60 segments. Available in 5 colors of azure, chrome, purple, black and cherry.
Watch face animation
MOVEMENT
This video shows a time-lapse animation of the watch face as time is passing by.
How to read the time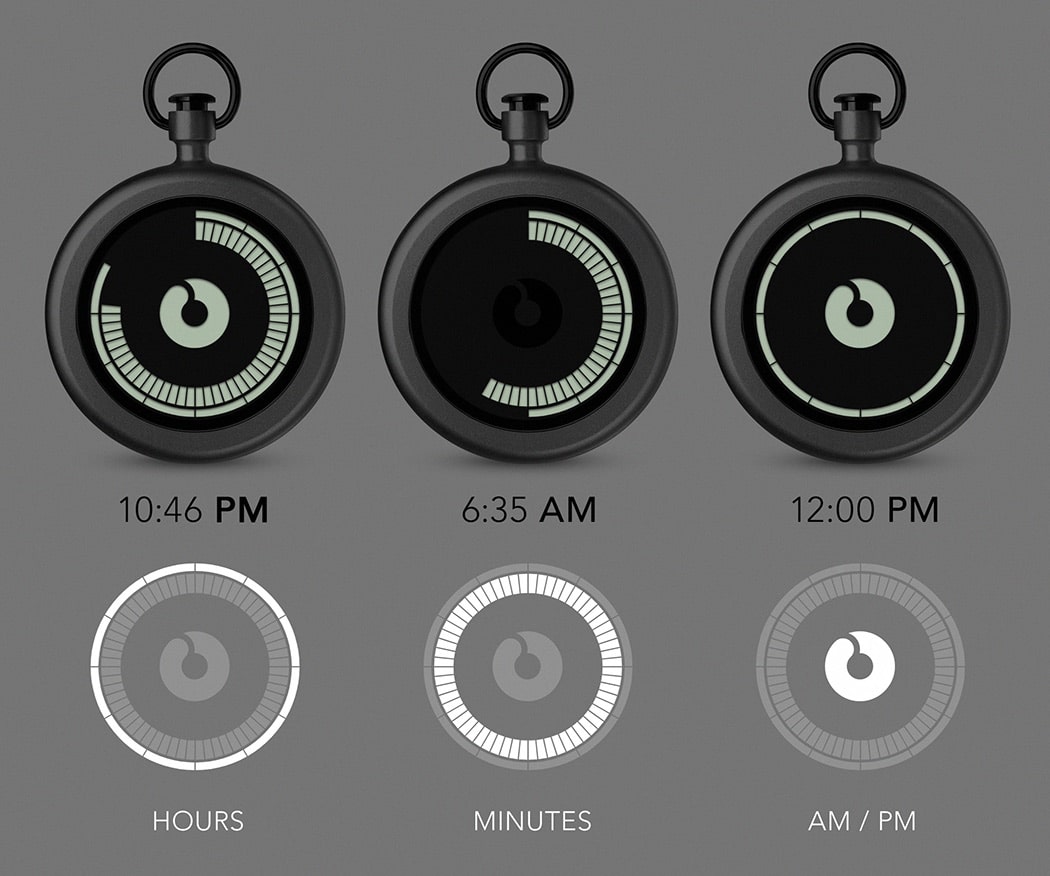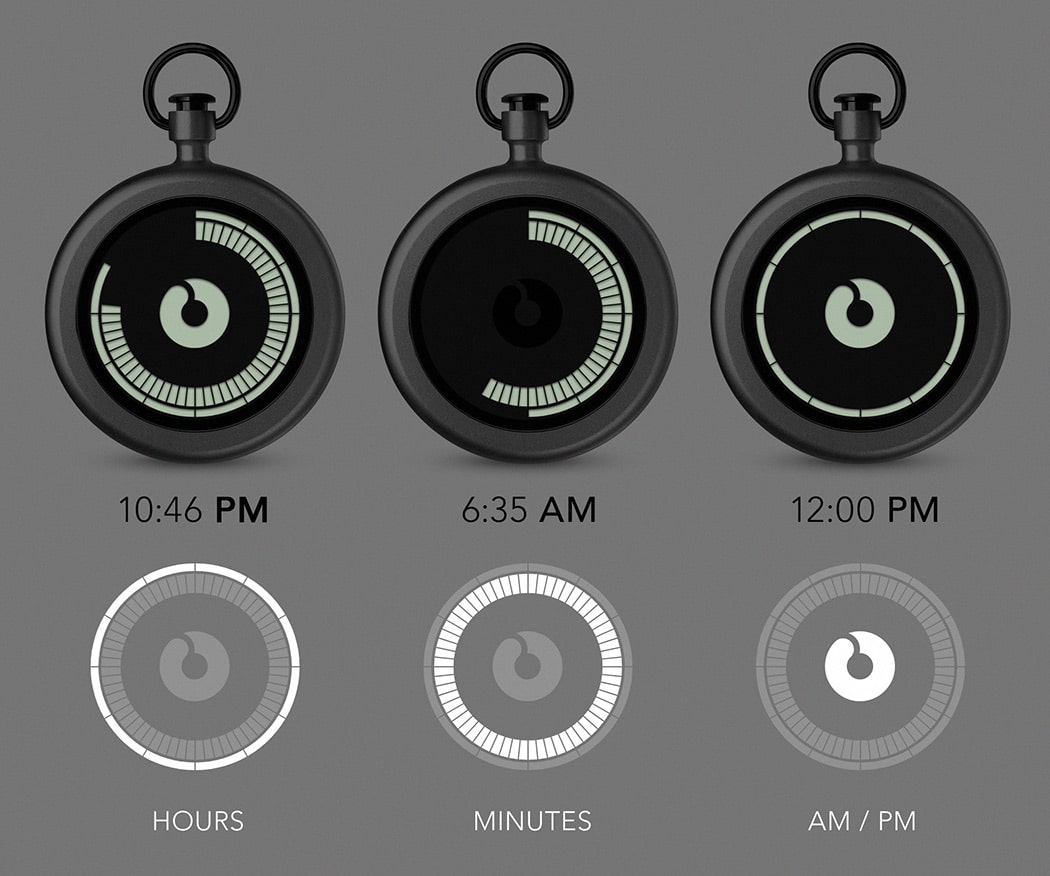 Introducing the future. Saturn's unique digital display rides through time by propelling its hour and minute through black segments. The hour can be deciphered from its outer ring of 12 segments and minute from inner ring of 60 segments. This futuristic piece comes with a stainless steel casing and 24 mm stainless steel mesh strap.
Product features

Interchangeability
Please note that the ZIIIRO Mercury, Celeste, Saturn & Titan watch series are NOT interchangeable with other watches.

Wrist Size
TITAN is a pocket watch so there is no recommended wrist size, but you will get a keychain with the watch. Pro tip: Get creative about how to wear this watch! It's also a nice pendant.

Water Resistance
Moisture Resistant. Suitable for everyday use. NOT suitable for showering, bathing, swimming, snorkelling, water related work and fishing. If you don't take your watch for a swim, you should be fine.
Other styles of ZIIIRO Titan
Booklet & Catalogs
Head over to Issuu to browse & download our Booklets & Catalogs.
| | |
| --- | --- |
| Weight | 0.03 kg |
| Dimensions | 59 x 48 x 11 mm |
| Case Material | Matte anodized aluminum casing |
| Case Sizes | Case Thickness: 11 mm — Case width: 48 mm |
| Case Back | Matte anodized aluminum snap-up enclosure |
| Watch Dial | Digital Display, 12 Hour and 60 Minute Indicators |
| Light | Electroluminescence backlight, button at 12 hour position |
| Movement | Digital Movement |
| Chain | Chrome / PVD (Physical vapor deposition) Black |
| Glass | Hardened Mineral Crystal |
| Battery | CR 2025 |
| Water Resistant | Moisture Resistant |
| Warranty | 1 year limited warranty |
Shipping Information
To determine the date we'll ship your order, please allow up to two business days for order processing. We will notify you via e-mail if an item is out of stock. Items placed on backorder will be shipped according to the dates advertised.
International Shipping
We accept and ship orders on a daily basis to customers worldwide. Online orders for items in stock are normally shipped from 1 – 2 business days from order receipt. As soon as your order is shipped, you will be sent a confirmation email with a tracking number which can be used on our carrier's website. You will usually have your watch from 10 – 14 business days if you choose standard shipping.
Shipping rates
Standard Shipping: From 10 - 14 business days

For orders under US$145.00: US$12.50
For orders US$145.00 or above: FREE!
Express Shipping: From 4 business days
Shipping charge: US$32.50 for first item
Please note that all applicable duties, tariffs, fees and any additional charges for customs clearance are your, our customer's, responsibility. Shipment to P.O. boxes, AFO or FPO addresses are not permitted.

It is important to note that import taxes and charges are NOT included in the price of your order. All shipments are delivered free of customs taxes and duties however occasionally the destination country's customs agency may select your shipment for assessment and could charge these duties and taxes. Since customs policies and import duties vary from country to country, it might be a good idea to check with your local customs office before you order. All packages are shipped from our sales and logistics headquarters in Hong Kong.
---