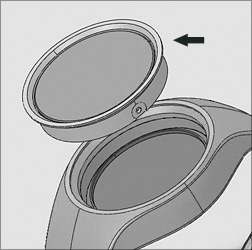 Waiting for the development process part B 😉 (sorry, we have much work to do at the moment), I wanted to show you how the interchangeable concept works. Therefore, i simply post some parts of the booklet, which show how to take out the clock body, set the time, and put it back in. I don't want to get too detailed about how excectly the mechanism works.. First, we had something like a turn & snap mechanism, where you would have to insert the clock body, and then turn clockwise to lock it. Later, we decided to use a simpler method, where you just have to push it in to lock it.
One more thing 🙂 There are other watches using similar mechanisms. But with most of them, it's really obvious that they are interchangeable, because you can see the gap between the clock and the case, the whole mechanism is exposed. We didn't want to have that, because apart from looking cheap, there also would have been other disadvantages, such as dust getting in. We wanted to make it look like the whole watch is one part, and found a solution to achieve this. If you look closely, you can see that there's a bent metal frame around our clock body (arrow in the picture), which fits into the silicone very accurate. This way, we don't have any gaps or areas that can collect dirt, everything is bullet proof.
In the next post, i'll provide some wallpaper artworks, stay tuned.